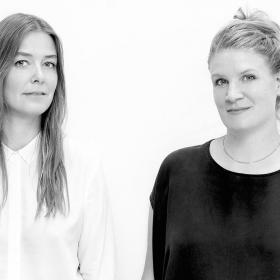 Studio Vit
Studio Vit was founded by London-based, Swedish designers Helena Jonasson and Veronica Dagnert in 2010. Combining Jonasson's background in industrial design and Dagnert's in fashion and communication, their joint vision is all about extreme attention to perfection in reduced forms featuring material-driven details. Where each material is valued for its intrinsic characteristics, whether it be weight, texture or colour.

Their main focus lies in elementary forms, sizes and materials and how they coexist harmoniously in a space. Simple designs allowing for a variety of groupings, which in themselves, create a clever contrast.

Marble Lights echo Studio Vit's sentiments about absolute simplicity. A reference to the archetypal light bulb and socket, it's a seven-piece collection comprised of glass spheres and marble cylinders of various proportions, along with weights that allow the lamps to be suspended. So you can create and combine table, floor and hanging lights as you like. This versatile approach to living with light resonates with our philosophy at &tradition. By making the bulb and socket the driving force behind the design, Studio Vit has revamped an icon into a contemporary context with timeless appeal.